"Rain Over Athens"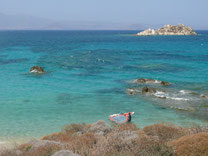 Die Story hinter dem Song:
Im August 2001 kollidierte in der Parthenabucht auf Naxos ein Motorbootfahrer mit stark überhöhter Geschwindigkeit mit einem guten Freund, der mit dem Surfbrett unterwegs war. Die Schraube des Bootes riss  tiefe Fleisch-wunden, verletzte U. lebensgefährlich. Überlebt hat U. eigentlich nur aufgrund der schnellen Hilfe durch die Freunde und durch den starken eigenen Lebenswillen.  "Rain over Athens" beschreibt die Stimmung an diesen Tagen und Wochen.
Die Musik von "Rain over Athens"
 "Rain over Athens" war schon auf meiner ersten CD "Call of the blue" zu hören.
Hier kommt der Song mit mehr akustischen Instrumenten, etwas ruhiger, etwas jazziger. Dafür sorgten diese Musiker:
Klaus Geisel: Solovocals, Chorvocals, Rhyhtmusgitarre, Klavier, Akkordeon
Karlheinz Hornung: Spanische Gitarre
Flori Mayer: Saxophon
Frank Thumbach: Bass
Text:
There is rain over Athens, there is blood in the bay, dark skies hanging over Munich, nothing left to do but pray.
It´s the fiftienth of August, Summer´s gone, yes it´s a fact. The blue returns to be an illusion, the here and now did end their pact.
Summer has gone...
There is silence on Parthena Beach, not a storm, no gentle breeze.
No more call-signs from Atlantis, no more voices from the seas.
You are more than my summer-love, but there´s no salt on your skin.
I can´t find words to write my poem, no more melodies to sing.
Summer has gone...
The autumn fog reached my illusion and my radar gets confused.
Find myself in deep depression. No, I´m really not amused.
I take my melodies from summer, teach them to my little son.
Words will take us away. We will survive. We carry on.
Summer will come ...