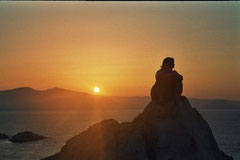 "Here Again"
Klar, dass der Song in Mikri Vigla auf der Insel Naxos seinen Ursprung hat. 2004 verbrachten wir nach einer kurzen Pause unseren Sommerurlaub wieder dort und so entstand dann auch "Here Again".  Es ist eigentlich der erste Song, den ich für "SONGS" geschriebehabe.
Mitwirkende:
Klaus Geisel: Alle Keyboards, Hammond, Akkordeon, Akustik-Gitarre, zweite Stromgitarre, Lead-Vocals
Karlheinz Hornung: Stromgitarre
Sonja Köhler: Background-Vocals.
Text:
Here again, I´m sitting by the sea, surrounded by light and sand.
And this place beomes a part of me, thought I hold my fade in my hand.
Here again, I´m sitting by the sea. The waves roll in like rhymes. Waiting for a brand new melody, manifesting itselfs in this lines.
Her again, I´, watching ships pass by, some of them will never arrive.
Making Music is a part of me, a watersign in the book of my life.
Here again, sweet sound will fill my ears.
I close my eyes, to watch the sea
Thinkin of my dad, he´s gone last year
Some tunes live further in me.
Did I play the right tune? Start too late? Stop too soon?
Did my song catch your balls? Here again - no matter at all.
Here again my senses set their sails. They catch filigran blue.
Natures beauty ´s overwhelming me.
If i cojuld share, I´d share it with you.
Write my roles with a tiptoe in the sand.
Let  flow all over your skin.
Would you escort my when I play the game?
Would you take care, whoever I am?