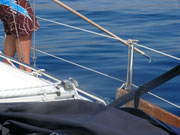 The Holiday Song
"Holiday Songs" gibt´s ja schon einige, zum Beispiel "Another Holiday". Dieser Holiday Song ist einfach der meinige. Besonders gefällt mir das Gitarrensolo ,das über den Harmonien des Refrains von Karl Heinz Hornung virtuos eingespielt wurde. (vgl. Tondokument)  Der Aufbau und die Harmonien des Holiday-Songs finden sich dann nochmals in "Rain over Athens" - allerdings mit einer gänzlich anderen Grundstimmung.
The Holiday Song - Text:
Got a Headcrash nearly midnignt – and the walls are coming close.
Feel my senses fell on strike –I had a working overdose.
I take a brake – more than a minute –
cut my anchor, brake my chains,
Removed my words from the golden balance
I pushed myself out of the rain.
The holiday song – all the holidays long
Got on board for California, find my name in a desert rain,
Smell the sounds down in Assala , drink red wine at the edge of spain.
Shape new tyres for my old R.V.  Make a date with the eastern sea. Received a call sign from Atlantis. Got much more than I can see.
Calling storms in Paleokastro Beach , got a kiss from deeper blue
Sail away from North Kroatia - the here and now is up to you –
I plan my journeys not on a mindmap, not on screen, not on a chart. My expedition to Atlantis needs more music from my heart.
The Holiday Song - Audio